Free Counters
Back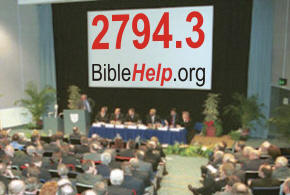 | | |
| --- | --- |
| | This counter adds up the estimated average number of deaths that have taken place since the counter was started. |
| | This counter adds up the estimated average number of people that may have gone to Hell since the counter was started. |
| | This counter adds up the estimated average number of American abortions that have taken place since it became legal (1973). |
| | This counter adds up the estimated average number of abortions (in the world) that have taken place since the counter was started. |
| | This powerful presentation (done with FLASH animation) provides a unique look at this issue. |
The free counters listed above can be used in a variety of ways (as shown below). You can use these free counters on laptops for small groups (Bible studies and Sunday School classes) or you can use them on projection screens for large groups. You can also install these free counters on your website or put them on your email as an automatic footer. Click on the photos below to see an enlargement.
The counters used on a projection screen look different than the counters on this website. However, to give you an idea of what the counters look like, I will provide you some samples:
Presentations
This counter can be used for both small and large groups. Running the counter on a laptop is ideal for Sunday Schools classes and Bible studies.

Using the counter on a projection screen is ideal for pastors, missionaries, and evangelists.

NOTE: the Presentation Version is the complete counter system, which means it also contains the email and website versions.

Website
Put this counter on your website. There are two types of counters and they are easy to install.
Email
Put this counter in your email. It will automatically appear at the bottom of your email. It is easy to install. It is also easy to disable whenever you desire.
For more information about these issues, go to the following links:
Index

4 ways to obtain this material
Detailed information about the 7 books
Download a Free Printable copy of this web site
Download a Free Handheld version (PDA, Palm) of this web site
Obtain a printed version of this material -American Orders
Obtain a printed version of this material -Canadian Orders
Obtain a printed version of this material -International Orders
Obtain a CD version of this material
Free Posters
Free Counters for your to download
Presentation Version: The complete counter system
Web page Version: Counters for the Web page
Email Version: Counters for your emails
Installing a built-in Death Counter on your web site
Installing a built-in Destiny Counter on your web site
Installing the American Abortion Counter on your web site
Installing the World-Wide Abortion Counter on your web site
Installing a Death Counter on your email
Installing an Abortion Counter on your email


Tell a Friend about this page