Failures of Great Leaders in the Bible
Back
Important Note

This section on selective salvation is 66 chapters long. If you arrived at this page via an Internet search engine, you might want to start with the first chapter. This will provide you a complete presentation of this subject.

Click Here to go to the first chapter
Click Here for a quick summary
Click Here to view all 66 chapters
Click Here to download a book version of this study
Chapter: 14.29
(Section 14: Selective Salvation)
Copyright © Michael Bronson 1998 - 2005
BibleHelp.org
There are many people in the Bible who were used mightily of God. King David, Samuel, and John the Baptist are just a few. Selective Salvationists point to these people and say, "See, this is proof selective salvation is true. God had certain missions He wanted to accomplish, and He forced these people to carry out these tasks. Since most of these tasks involved these people being believers, God obviously had to force them to become believers."
I discussed this issue in a previous chapter (Sovereignty of God) so I won't cover it again here. Yet, the lives of these great leaders are proof that selective salvation can't be true. If you study the Bible, you will find very few of these great people led consistent, pristine lives. Some of them made some very significant blunders.
Following is a list of some of the believers who led consistent and faithful lives:
Samuel
Joseph
Queen Esther
Job
John the Baptist
Shadrach, Meshach, and Abednego (the three "asbestos children")
Daniel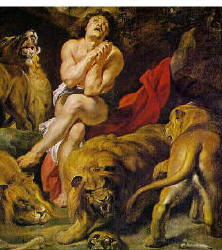 Daniel in the Lions Den
Following is a list of some of the people who were less consistent and obedient
King David
King Saul
King Solomon
Adam and Eve
Samson
Moses
Abraham
Aaron
Eli
Lot
Isaac
Jacob
Most of the 12 sons of Israel
Many of the other Kings of Israel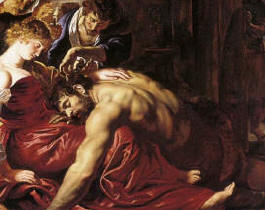 Samson and Delilah
Let's assume for the moment selective salvation is true. All of these people were selected by God to do a great service. There were forced to become believers, and they were forced to do this service. If this were true, you would expect each of these people would have lived consistent, exemplary lives. You would not expect any of them to make any major blunders. This isn't, however, what we find. Many of them took their eyes off God and fell into deep sin. Many of these great leaders ended their lives out of fellowship with God.
Other Chapters in this Section

Home
Up
PART 1: What is Selective Salvation?
PART 2: What Does the Bible say about Selective Salvation?
What does the Bible Say?
Why, then, do some still Believe in Selective Salvation?
Interpreting the Bible
Does All mean All?
How Could God make it any Clearer?
Does it all Add Up?
Are People Perishing Despite God's Desire for their Salvation?
Why did Jesus Cry out for Their Forgiveness?
What is "Election" and "Predestination?"
Does a Sovereign God do Whatever He Wants?
The Sovereignty of God
Failures of Great Leaders in the Bible
God's Foreknowledge
PART 3: Problems with Selective Salvation
PART 4: "Choice" –The Achilles' Heel of Selective Salvation
PART 5: Difficult Questions Answered
Appendix: Foundational Documents used by Selective Salvationists