Free Posters to Download
Back


The following three posters are free for you to download. Since these posters fit on a standard 8.5 x 11 sheet of paper, they can be printed on any printer. They are ideal for handouts at church and Bible studies. To download these posters, go the the Master Download page.
After going to the Master Download page, simply click on the desired poster. This opens up the file in Acrobat. At this point you can either print the poster or you can save it to your computer. Although most computers come with Acrobat already loaded, some don't. If nothing happens when you click on the button, you probably don't have Acrobat. If this is your situation, go to the bottom of this page to obtain a free copy of Acrobat.
If you are going to put them up on a bulletin board, you might want to consider printing them in color. In fact, you might want to have a copy center (such as Office Depot or Office Max) print them for you. The quality of their laser printers is fantastic and they look much more professional than your color ink jet. They usually charge about a dollar per page. All you need to do is put the files on a floppy or CD. Since the files are written in Acrobat, just about anyone can print them. Having them print the posters on thicker card stock, which usually costs about 5 cents more per page.
Although these posters are copyrighted, I encourage their FREE distribution. See my copyright page for more information. The size of these download files are small; about 50k each. Click on the photos below to see a bigger sample of the poster.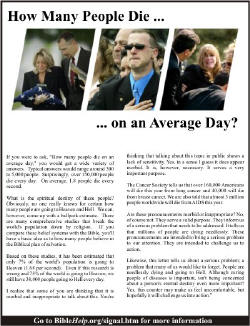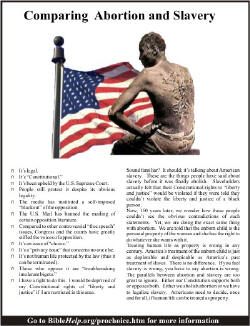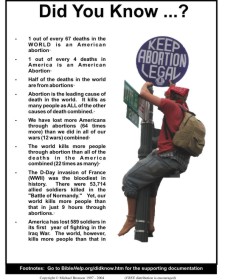 Click Here to go to the Master Download page
If you don't have Acrobat reader
Just about all computers come with Acrobat or a PDF reader loaded on it. However, if you do not have one, you can download Acrobat for free from Adobe. Just click on the Acrobat button below:

Index

4 ways to obtain this material
Detailed information about the 7 books
Download a Free Printable copy of this web site
Download a Free Handheld version (PDA, Palm) of this web site
Obtain a printed version of this material -American Orders
Obtain a printed version of this material -Canadian Orders
Obtain a printed version of this material -International Orders
Obtain a CD version of this material
Free Posters
Free Counters for your to download
Presentation Version: The complete counter system
Web page Version: Counters for the Web page
Email Version: Counters for your emails
Installing a built-in Death Counter on your web site
Installing a built-in Destiny Counter on your web site
Installing the American Abortion Counter on your web site
Installing the World-Wide Abortion Counter on your web site
Installing a Death Counter on your email
Installing an Abortion Counter on your email


Tell a Friend about this page