UFOs -8: Unable to Avoid Objects in its Path (Part 8 of 8)
Back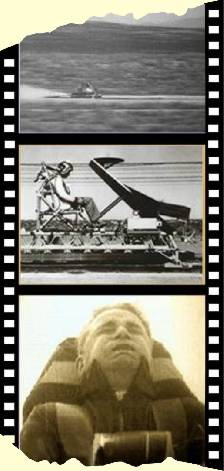 John Stapp on his historic ride on a
rocket-powered G-force sled
Chapter: 11.15
(Section 11: Understanding God and His Universe)
Copyright © Michael Bronson 1997, 1999, and 2000
BibleHelp.org
Summary
Even if ultra high-speed spaceships could detect object in its path, it still couldn't avoid them. As describes below, an evasive action would produce 284 million Gs of force. Five Gs will cause a fighter pilot to pass out and a few seconds of 9 Gs will kill the pilot and a few more Gs will tear the aircraft apart.

Click Here for a book version of this material
In the previous chapter, we talked about a spaceship detecting a boulder in its path and making a flight adjustment to avoid hitting it. The spaceship had 3,333 miles to make a seven miles flight adjustment. Although you would think that this flight adjustment would not be too abrupt, it would be very abrupt.
The problem comes from having to do this adjustment very quickly. Imagine slowly moving a person seven miles from one spot to another. Now, imagine quickly moving a person the same distance in less than 4/100th of a second. (Most elevators are about 500,000 times slower than this.) This is what's happening to the spaceship and its passengers.
In the above example, the miniscule adjustment to avoid the danger zone would produce a G force of about 1.8 million Gs.8.1 One G force is the force of earth's gravity. The dropping sensation you feel when you first jump out of an airplane is equal to one G force. (This is similar to what you feel when you're going down a steep roller coaster.) Three G force is enough force to give fighter pilots "red eye" (the rupturing of blood vessels in the eyes) and 5 Gs can cause the pilot to pass out. A few seconds at 9 Gs will kill the pilot and a few more Gs will tear the aircraft apart. (Source: World Book Encyclopedia)
Obviously, the G force needs to be reduced from the 1.8 million Gs to at least 5 Gs and preferably down to ½ G. Although ½ G would be desirable, it may not be as practical. Therefore, we will calculate what would be necessary to reduce it down to 3 Gs.
Basically, spreading the flight adjustment out over a longer period of time would reduce the G force. This means the pilot (or computer) needs to know about the boulder sooner, which means the spaceship needs to have a more powerful and sensitive scanner. Instead of detecting objects at 10,000 miles, the scanner needs to be able to detect objects at 2.7 million miles.8.2 Instead of having the sensitivity of being able to detect a grain of sand at a distance of ten mile, it'll have to be able to detect it at 2,700 miles. That's similar to a person dropping a grain of sand in New York and having a person in California track its movement. The tables below shows what will happen if the spaceship is traveling at 90% of the speed of light instead of 50%.
G force exerted as a result the flight adjustment
Spaceship's speed

(% of light speed)

Range of scanner

(miles)

Sensitivity of scanner

(# of miles away a grain of sand can be detected)

G force Pressure

50 %

10,000

10

1.8 million Gs

90 %

10,000

10

284 million Gs 8.3
Range and sensitivity of scanner needed to reduce the G force down to 3 Gs
Spaceship's speed

(% of light speed)

Range of scanner

(miles)

Sensitivity of scanner

(# of miles away a grain of sand can be detected)

50 %

2.7 million

2,700

90 % 8.4

97 million

97,000
Think about what these flight adjustments would be like for the astronauts. These adjustments would be sudden and unannounced. People could not be walking around like they do on Star Trek or Star Wars. They would have to be tightly strapped into their chairs for the entire trip. Even when they are strapped in, simple things like eating would be a disaster if flight adjustments were to take place during this time.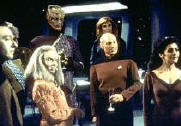 Star Trek: The Next Generation, Paramount Pictures
When we reduced the G force down to 3Gs, we increased the time it takes to do the flight adjustment to 27.5 seconds. Actually, the total time for the flight adjustment would be twice as long (55 seconds). After the flight adjustment is done, the spaceship is now moving farther off course at a rate of a half-mile per second. Another flight adjustments in the opposite direction (of equal time and G force) will be needed to stop the spaceship from going farther off course. After the second adjustment is finished, the spaceship is still 14 miles off course. Since the spaceship has years to slowly get back on course, we won't cover the G force involved in this adjustment.
I realize some people will balk at the size of the "danger zone." They would say that the scanner would know exactly where the boulder is located. I won't go into the complex explanation of how scanners work, but that type of detection at these distances is not possible for a single source scanner.
Besides watching for incoming enemy missiles, NORAD also keeps track of satellites orbiting our planet. NORAD plots the movement of thousands of satellites in order to predict possible collisions. Even with their vast radar system scattered all over the world, they still don't know the exact locations of the satellites. When they predict possible collisions, they issue warnings such as, "Satellites 1973-40A and 1978-16A will pass within 3.5 km (2.2 miles) with an uncertainty of 20 km (12.4 miles)." They have a rough idea of where the satellites are located and when they predict a collision, the owners will move one of the satellites away from the "danger zone."
Having said that, I realize some people will still insist that technology can overcome all problems. Therefore, for the sake of argument, let's say that a scanner is able to pinpoint a boulder's location to within a few feet. Let's also say that the spaceship is only going to adjust its course 30 feet to avoid hitting the boulder. Even with these extreme impossibilities, this flight adjustment would still produce a G force of 1,463 Gs.8.5 If the spaceship were traveling at 90% of the speed of light, this adjustment would produce a G force of 234,363 Gs.8.6
How many times would a spaceship have to avoid hitting objects as it travels to our nearest star? Would it only be a couple times or several dozen times? Obviously, we have no idea how many objects are actually out there. Let's say, for the sake of argument, the space between the two stars is so empty that the spaceship will only have to avoid hitting something once every million miles. Even at this rate, the spaceship will have to avoid hitting 24.7 million objects. If the spaceship is traveling at 50% of the speed of light (an 8.4 year trip), it would have to avoid hitting something once every 10.7 seconds.
As I stated in the first "UFO" chapter, slower speeds may be "safer" but they take too long. The faster speeds may reduce the time, but they are far too dangerous. Even though technology can overcome many obstacles, we still need to be realistic. Interstellar travel makes great science fiction, but it is not scientific.
Footnotes: The footnote section for the UFO chapters has 10 pages of calculations. I have, therefore, put all of the footnotes and calculations on another web page to keep these web pages cleaner looking. Click on the link below to go to the footnotes:
Other Chapters in this Section

Home
Understanding God
What is God's Race?
Could Jesus have Sinned?
What an Awesome God
7-Day Creation: Figurative or Literal?
Is There Life on Other Planets?
UFOs -1: Fact or Fiction?
UFOs -2: Distances are too Great
UFOs -3: Ultra High-Speeds are Impossible
UFOs -4: High Speed Collisions
UFOs -5: Could Force Fields Protects a Spaceship?
UFOs -6: Outer Space is Anything, but Empty
UFOs -7: Problems Detecting Objects in it Path
UFOs -8: Unable to Avoid Objects in its Path
UFOs -9: Footnotes


Tell a Friend about this page